We Are Currently On Fall Break!
Tuesday, September 6th, 2022
SO LONG FOR A LITTLE WHILE
Summer is now fading into fall and the back-to-school season is upon us. For us, that means that it's time to say "so long" for a few weeks. We hope that you had as wonderful a summer season as we did. . . and that is in thanks to you! You made our year great! Now that days of barbecues and beaches are transitioning into days of changing leaves and cooler breezes, we need a little down time so we can get ready for the upcoming seasons (Halloween, Black Friday, Christmas, and New Year's!) As such, our Fall Break begins Tuesday, September 6th and we will re-open our doors on October 21st! We hope your kids have a wonderful return to school, and that you get to revel in the brisker weather and enjoy all the cozy things the fall has to offer. We look forward to seeing you again soon!
OUR WEBSITE IS ALWAYS BEING IMPROVED!
Our website has recently gone through a major tuneup and is continually being refined and polished! Not only did we get a new look but we added a lot of new and unique features this past summer.
The most significant of these changes is that our online catalog is now tied directly to our in-store inventory system. That means our product availability is as up-to-date as it has ever been and that each item you see on our website is in our store at that very moment. We've also substantially increased the information included with each product so you can find exactly what you're looking for. Additionally, we've added a wishlist feature where you can add these items as you browse, print out a physical list, and calculate your savings before you even hit the store! We hope that you take a moment to browse the site and take advantage of these new features!
Monthly Featured Items
September
Item 0 of 13, product APPLEPIE MOONSHINE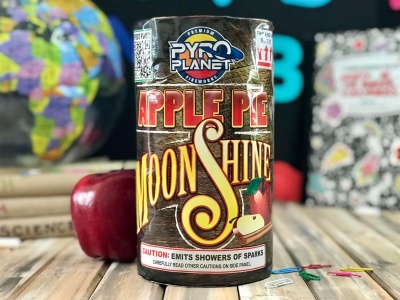 APPLEPIE MOONSHINE
department: FOUNTAINS
No need to trek to the orchard for these apples! ApplePie Moonshine's effects are ripe for the picking! Features juicy red and golden yellow lava-effect stars and a barrel full of crisp, fiery crackles! Scrumptious!