Shop With Us Any Season
Tuesday, October 17th, 2023
Autumn is coming!
Say goodbye to the warm days and welcome the crisp autumn breeze! But wait, don't let the chill steal the spark from your celebrations. We have an artillery of fireworks to light up every season! Capture the perfect fall aesthetic or add a creepy touch to your Halloween house with our colored smokes, reveal the gender of your little one with our fountains and confetti cannons, or make your wedding day magical with our sparklers! Still not quite it? You can set your wishes free with our sky lanterns, pile up the presents with our gift cards, and light up your New Year's Eve with our explosive cakes! The fun goes on and on!
Discover the perfect product with ease
With our improved website, we've got tons of incredible new features that totally stream your shopping experience! We've linked our online catalog straight to our in-store stock system! That means you get real-time info on all the goodies on our shelves, right from the comfort of your couch. Plus, our search tools just got a spooktacular upgrade, making it a breeze to find exactly what you're looking for. We also understand the value of an informed purchase decision. That's why we've included video links to our products' performances so you can see them in action before you buy. And for those who like to plan ahead, our wishlist feature allows you to print out a shopping list like a pro and map out your shopping spree. Get ready for the simplest shopping experience you've ever had!
Monthly Featured Items
December
Item 0 of 18, product 6 SHOOTER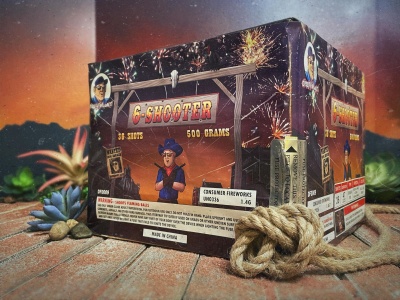 6 SHOOTER
department: 500G CAKES
Thirty-six loud and intimidating shots go up into the sky and break as crackling red and green coconuts or crackling chrysanthemums. Features an awesome six-shot finale. No need to reload here, partner!