Where Spring Ends, Summer Begins. . .
Monday, May 15th, 2-23
THE SUNNY WEATHER IS HERE TO STAY
Do you feel that!? That's the warmth of early summer sunshine! Woo-hoo! And with the gorgeous summer weather rolling in, we've been preparing the store and ourselves to help make your summer fireworks shows to be the best they absolutely can be. We've extended our hours and filled our shelves with tons of your firework favorites and lots of new explosively-good products worth checking out. We can't wait to see you all again and to help you make more wonderful summer memories.
INCREASED PRICES? NOT US!
Despite inflation in every industry, we have been able to avoid increasing our prices. The low prices and 2-for-1 and 3-for-1 deals you know and love from us are still here and ready to help make your summer events both fun and affordable! Our shelves are stocked, ready, and loaded with lots of product for the choosing. We will continue to get more and more products in the near future. Please keep an eye out on social media and email for updates! We are so excited and absolutely full of anticipation for this summer season. See you soon!
Monthly Featured Items
June
Item 0 of 17, product AEROJET MISSILE PACK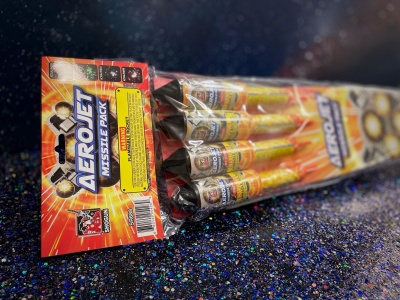 AEROJET MISSILE PACK
department: ROCKETS
Get ready to launch with Aerojet Missiles! This four-pack rocket assortment gives an impressive airshow with loads of colors and fun effects! Each rocket features unique effects such as crackles, multi-colored stars, and gorgeous glittering strobes!